OUR STORY
When the AMPS business idea was conceived back in 2011, the skills and knowledge of new engineers were inadequate compared with the industry's expectations. AMPS bridges this gap through a collaborative approach with mining technical services, providing education, technical support, developing and implementing systems and training to mines. From small beginnings, AMPS is now considered a leading provider of mining technical services. AMPS has developed an innovative business model which is a new way of thinking for the mining industry, offering a combination of on-site support and in-house design services.
Our organisational culture is key to our ongoing business success and sets us apart within the industry. We are committed to supporting a workplace that encourages collaboration and leadership while enabling our team members to thrive professionally and personally.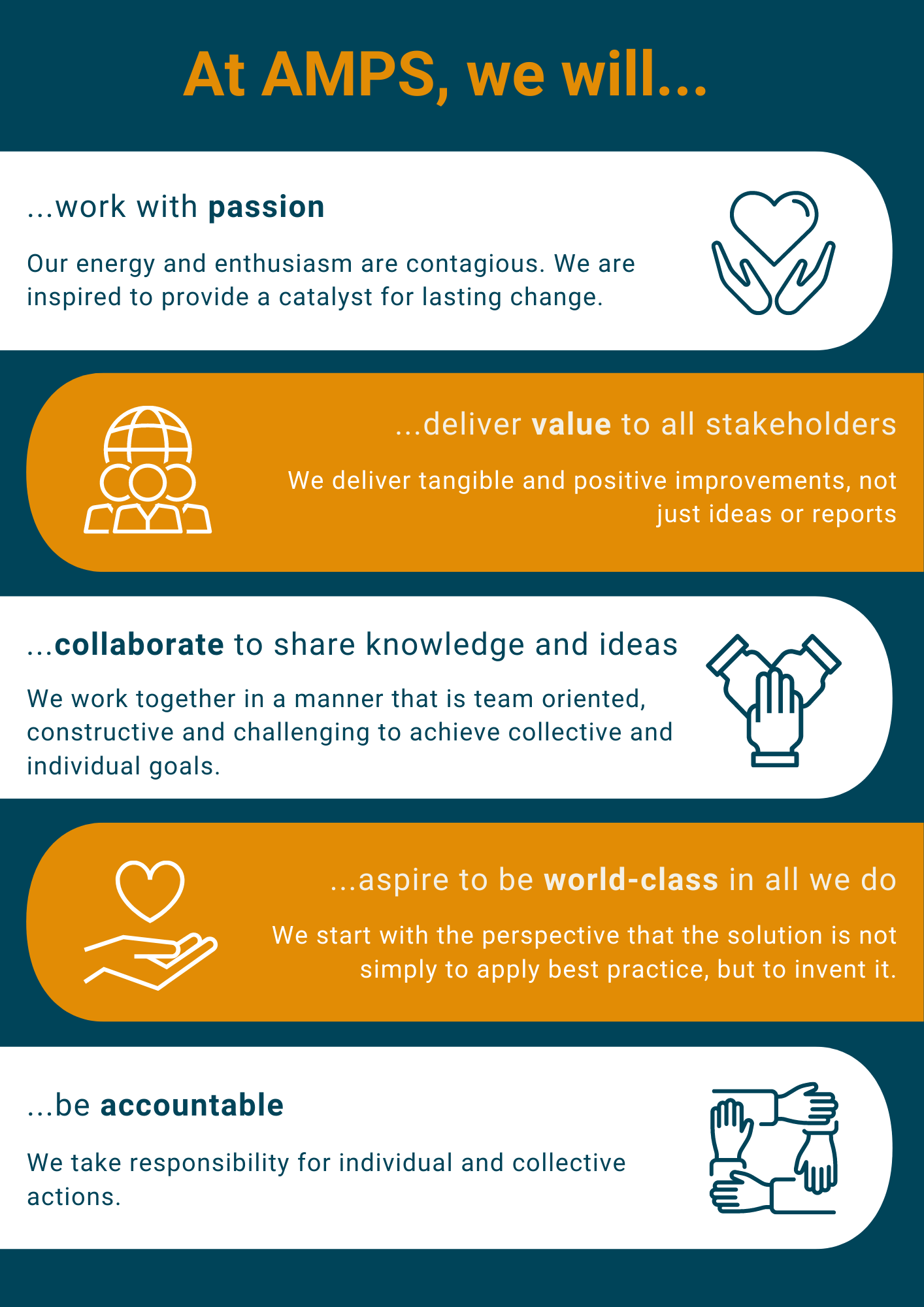 OUR MISSION
At AMPS, we work with our clients to provide the highest quality professional services. Through mentoring, training and provision of world-class practical solutions, we help build the capabilities within organisations to future-proof technical services departments. We attract, recruit, and retain the most knowledgeable and passionate mining professionals, while providing a collaborative and innovative culture that enables them to thrive both professionally and personally.
Together, we are changing the future of mining.
YOUR PARTNER IN TECHNICAL SERVICES
QUALITY WORK QUALITY PEOPLE
Testimonials from happy clients.
AMPS regularly have highly skilled engineers with appropriate software skills for our requirements. If junior engineers are provided that aren't yet at the required skill level then AMPS ensure that they are appropriately trained up, rather than me having to spend time and money training them on site. Skilled engineers prevent rework, minimise dilution, improve efficiencies, improve recoveries, minimise damage, speed up cycle times and most importantly lower my blood pressure. I absolutely recommend AMPS. Always willing to help out where they can. Flexible options provided to suit our needs where necessary.
"The high-quality work completed by AMPS has improved the organisation as well as the Drill and Blast department, which is now well structured in terms of procedures, checklists and process flows. Besides the expertise from AMPS, the interpersonal skills of the consultants were excellent and we definitely look forward to working closely with AMPS again"
"Brendan from AMPS came to site to assist the MTS department in our transition to Surpac and RingKing. The training provided was succinct and delivered knowledge on topics that are necessary for engineers working in a producing underground mine. AMPS also implemented key systems and procedures that eased the transition to the new software and improved the department's workflow as a whole."
"As the name suggests, A.M.P.S. provides advanced production systems that bring efficiency and good process into evaluation and design of stopes. With the implementation of A.M.P.S., we look forward to optimal production results as the mine moves into production phase."
"Brendan from AMPS is a very skilled and knowledgeable person. His technical help was very well appreciated by us, for transitioning EHM into Production. He also assisted us in training our staff in software, setting up processes and defining standards for production and development of the mine. It has been a great pleasure doing business with Brendan and I highly recommend his work. I wish him all the best and will continue to use his services when required."
"AMPS are making a significant contribution to the successful transition of the Ernest Henry Mine from developing project to producing operation. By applying his extensive knowledge in underground metalliferous processes at proven sites, Brendan is helping our team to develop sustainable systems for undertaking ring design and charge plans, track production, define roles and use new mine design software. We look forward to continuing our working relationship with AMPS in the future and highly recommend their services to prospective mining operations, both established and new."
"I would highly recommend AMPS to any mining company. They are professional, customer orientated and delivered a quality product which perfectly met our needs and expectations. Our initial meeting with Brendan and Darren revealed them to be a professional team with comprehensive mining knowledge and an interest in understanding exactly what we are trying to achieve. The communication was regular and reliable, and they delivered on their commitments. If you are a mining company with a gap you need addressed particularly in the drill and blast space, you can be confident in doing business with this company. I'd wish them good luck with their business but they don't need it, their work sells itself."
"The audit conducted has highlighted some short falls in our D&B and mine planning and given Degrussa Copper Mine some valuable actions for improvement going forward. We will use AMPS to do another audit in 12 months to ensure improvements as suggested are implemented. I would recommend AMPS to any mining company, Brendan is a very highly competent mining engineer and will deliver the results your seeking."
"I will highly recommend AMPS to any Mining Company. Brendan's technical knowledge about UG mining is very good. He is very professional, customer oriented and quick with quality. All the best to AMPS in the future and we will continue to use AMPS services when required."